Being a Pirate Has its Perks!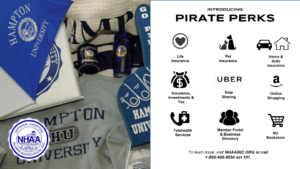 If you haven't heard yet our young alumni have been working hard to provide unique perks exclusively for our alumni and their immediate family members. Pirate Perks benefits and services are made possible through our corporate partners: Geico, Securian Life, Impactful Wealth Solutions, Health Paws & Uber.
By supporting our corporate partners you will not only receive discounts from their products or services, but you also make it possible for the NHAA Inc. to receive a portion of the revenue share which provides another way for you to give back to your Home by the Sea.
Revenues received through our corporate partners benefit the Endowed Scholarship Fund and assist future Hamptonian's to join the Hampton experience. So as you go about your summer don't forget to check out the savings. For more information on Pirate Perks, please visit the Pirate Perks section or call 800-408-8850.