Introducing President Gena Pemberton
Fellow Hamptonians,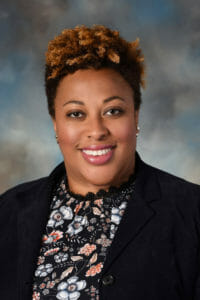 Today marks the start of a new chapter for our beloved National Hampton Alumni Association, Inc. (NHAAI)! I am truly honored to serve as your President and our uniquely talented Board stands ready to move this organization Future Forward!
Our time is now! This is our moment to define what being a Hamptonian really means. At a time when the relevancy and impact of HBCUs is without question, it's absolutely critical that we all engage, work together, and give back to Our Home by the Sea, to keep Hampton's legacy strong for generations to come.
Engaging as an alumnus may mean joining your local alumni chapter, mentoring a current student, donating regularly, or setting up a Hampton recruiting pipeline at your company. I just ask that we all commit to doing something to further the impact of Hampton University and the Alumni Association. I am tremendously excited to achieve and exceed our goals and celebrate our accomplishments along the way!
I will introduce our Board momentarily, but before I do so, I want to share our team's mission.
To continue the upward trajectory of the previous boards to bring the NHAA Future Forward.
Working together, we can do this! It's a feat that requires a commitment and effort from all of us and one that I'm confident we can accomplish!
Please join me in welcoming the following Hamptonians to your 2018-2019 Board:
Lani Shaw, '02 – First National Vice President
Yvonne Saxon, '85 – Vice President (Eastern Regions)
Velda Faulkner, '85 – Vice President (Western Regions)
Carol Bell Drew, '08 – Recording Secretary
Victoria Cotter, '10 – Corresponding Secretary
Christopher Norwood, '94 – Treasurer
The Council Regional Presidents
Kelli Boyer, '91 – President, Mid-Atlantic Region
Tosha Hudson, '97 – President, Midwest Region
Glenda Gilchrist Pinkett '91 – President, North Atlantic Region
Tanya Thacker, '93 – President, North Carolina Region
Donna Edwards Todd, '72 – President, Southeast Region
Deborah Freeman Ballou '78 – President, Southwest Region
Dorothy Lee Murray, '80 – Immediate Past National President
Stephanie Grigg, '09 – Chaplain
Mawiyah Husbands '98 and Yoruba Mutakabbir '01 – Student Recruitment Co-Chairpersons
Tiyale Hayes '98 and Jeff Silverthorne '85 – Alumni-Giving Co-Chairpersons
April Broadway, '88 – Parliamentarian
Raquel Watson '95 – Mentorship & Career Network Chairperson
Kwame Simmons '98 – Parent/Student Advocacy Chair
Edna Johnson '66 – Protocol Chairperson
Kairi Henry '97 and Marc Johnson '98 – Technology Co-Chairpersons
Willie Williams '83 – Nominations Chairperson
Carrington Carter '07 and Shaundra Turner Jones '98 – Marketing and Publicity Chairpersons
Tiara Sargeant '18 and Justin Shaifer '16 – Young Alumni Co-Chairpersons
Dr. Gladys Hope-White '39 – Emeritus Class Representative
As the incoming Board and I take our place as the new administration, I'd like you to join me in thanking Dorothy Lee Murray and the outgoing NHAA, Inc. Board of Directors for their many accomplishments!
I look forward to seeing you at the biennial in Chicago (if you haven't already, please register at nhaabiennial.org) and then again at homecoming!
In the Hampton spirit,
Your NHAA President,
Gena Pemberton