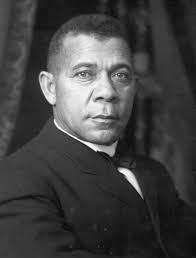 "If the people who gave the money to provide that building could appreciate the influence the sight of it had upon me, as well as upon thousands of other youths, they would feel all the more encouraged to make such gifts. It seemed to me to be the largest and most beautiful building I had ever seen. The sight of it seemed to give me new life. I felt that a new kind of existence had now begun — that life would now have a new meaning. I felt that I had reached the promised land, and I resolved to let no obstacle prevent me from putting forth the highest effort to fit myself to accomplish the most good in the world."
-Booker T. Washington, Up from Slavery
Hampton University's most notable alumni is Booker T. Washington. After walking 500 miles to Hampton from Malden, WV at age 16, he graduated with the Class of 1875. Upon appointment by Samuel Chapman Armstrong, Washington became the first leader of Tuskegee University in the year 1881.
Other Notable Alumni:
Lawyer and Publisher – Robert Abbott
Actor – Benjamin Brown
Deputy Editor at Glamour Magazine – Angela Burt-Murray
Radio Celebrity – Spencer Christian
Educator and Civil Rights Leader – Septima Poinsette Clark
NBA Basketball Player – Jazwyn Cowan
Renowned Sociologist – St. Clair Drake
Politician – Al Eisenberg
Judge – Vanessa Gilmore (youngest appointed federal court judge)
NBA Basketball Player – Devin Green
Politician – Algie Thomas Howell Jr.
President and Founder of the Gloucester Institute and current member of the NASA Advisory Council – Kay Coles James
Mother of Martin Luther King Jr. – Alberta Williams King
Artist, Educator and founder of the International Review of African American Art – Samella Sanders Lewis
Author, Poet and Playwright – M. Carl Holman
NBA Basketball Player and Coach – Rick Mahorn
Lawyer, Professor and current Principal Deputy Assistant Attorney General for the Office of Legal Policy in the U.S. Department of Justice – Spencer Overton
First African American Mayor of Trenton, NJ – Douglas Palmer
President of Oracle Corp. – Charles E. Phillips
U.S. Ambassador to Nigeria – Robin R. Sanders
Newspaper Publisher – John H. Sengstacke
Emmy Award Winning Comedian – Wanda Sykes
NFL Football Player Cordell – Jerome Taylor
Bishop Ted Thomas, Sr.
26th Governor of the Virgin Islands- Charles Turnbull
Former member of the Illinois House of representatives – Wyvetter H. Younge