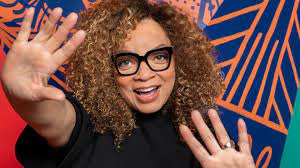 Contact: Shaunda Turner-Jones
Phone: 703-625-0930
Email: shaundra.turner-jones@nhaainc.org
Hampton University Alumni Recognized Oscar Winner and Alumna Ruth E. Carter at Gala
Funds from Inaugural Event Will Support Students Facing Financial Hardship
NEW YORK, N.Y. (May 20, 2022) – The National Hampton University Alumni Association (NHAA), Inc. hosted its inaugural "Legacy Blue Gala" to honor distinguished Hampton alumni and leaders, including Academy Award winning film costume designer Ruth E. Carter, a member of the Class of 1983, on May 21, 2022, at 7:00p.m., at Guastavino's at 409 E. 59th Street, New York, N.Y. All proceeds from the gala will benefit the Student Emergency Fund, which supports current students facing financial difficulties.  
NHAA, Inc. President Gena Pemberton said the event has already raised more than $50,000 to help students in need. The Student Emergency Fund is funded primarily by alumni donations and was launched in November 2019 as part of Pemberton's Future Forward vision campaign.
"We are thrilled to come together and celebrate the extraordinary accomplishments of our wonderful fellow Hampton alumni," said Pemberton, a member of Hampton University's graduating Class of 1998. "We also recognize that, now more than ever, our students need support to achieve their academic goals, and financial woes should not be a distraction. African American students are facing an unprecedented student debt crisis, and we want to do everything we can to help remove economic barriers and encourage wealth-building within our community."
To donate to NHAA, Inc. Student Emergency Fund, please click this link. https://nhaainc.org/nhaa-inc-student-emergency-fund-form/
Legacy Blue Gala honorees included:
Ruth E. Carter, Class of 1982: The Legacy Builder Award. With A career spanning more than three decades in theater, cinema, and television, Carter has more than forty film credits, including two Academy Award nominations for "Malcolm X" (1993) and "Amistad" (1998), an Emmy nomination for the reboot of the television mini-series "Roots" (2016), and becoming the second costume designer after Edith Head to receive a star on the Hollywood Walk of Fame (2021). In 2019, she made history as the first African American to win an Academy Award for Best Costume Design for her work on Marvel Studio's "Black Panther."
Dr. William R. Harvey: Dr. William R. Harvey Leadership Award. As president of Hampton University, Dr. Harvey is the inaugural recipient of the Dr. William R. Harvey Leadership Award. Dr. Harvey has served the University with distinction for more than 40 years and created a monumental legacy as one of the longest tenures of any sitting president of a college or university in the country. Dr. Harvey is also a longtime, successful business owner as 100% owner of the Pepsi Cola Bottling Company of Houghton, Michigan. During Dr. Harvey's tenure, student enrollment has increased from approximately 2,700 students to over 6,300. The average SAT score of entering freshmen has increased by approximately 300 points. Additionally, Dr. Harvey has expanded innovation in academic programs resulting in 92 new academic programs, including Computer Science, Marine Science, Entrepreneurship, Chemical, Electrical and Computer Engineering, and Airway Science.
Kadidja Dosso, Class of 2017: The Rising Star Award A prolific entrepreneur, public speaker and community builder, Dosso developed a hypoallergenic braiding hair company, Dosso Beaty, that is currently sold in major retail chains across the country. A member of Delta Sigma Theta Sorority, Inc., Dosso earned the $250,000 Black Ambition HBCU grand prize in 2021 sponsored by media mogul Pharrell Williams.
Colonel (Ret.) Joseph Briggs, Class of 1963: The Life Is Singing Award Known throughout the NHAA, Inc., and his community as a fundraising giant, Briggs is a mentor, coach, and bridge-building, having served in several capacities in the Northern Virginia Chapter of the NHAA, Inc. where he was instrumental in the Chapter's establishment of two Endowed Scholarships at Hampton. A member of Omega Psi Phi Fraternity, Inc., Briggs has been honored with numerous awards for his leadership and service to the community. 
The Lifting As We Climb Foundation, Inc., Class of 2000: The Community Impact Award The Lifting As We Climb Foundation (LAWCF) was initially founded in 2004 by five Hampton graduates who are members of the class of 2000, including Siraaj Hasan, Curtis Blackwell, Michael Powell, Samir Cummings and Serenity Bush. LAWCF is primarily made up of young business professionals, dedicated to making a difference in the lives of underprivileged, low-income youth. The LAWC Foundation, prides itself on being a "youth to youth" mentoring organization, with a specific mission to uplift disadvantaged, "at risk" youth between the ages of twelve and eighteen. The organization seeks to cultivate youth development in education, leadership, community service, health and physical fitness and career development.
Sponsors include BET, Paramount, Omnicom Group, Truist Bank, Morgan Stanley, Omnicom Health Group, P&G and L'Oréal.
About NHAA, Inc.
During its more than 120-year history, the NHAA, Inc. has cultivated a sense of personal commitment and individual responsibility by Hampton alumni toward the advancement of Hampton University. The Association has operated in a spirit of family togetherness with other sectors of the University to ensure its effective involvement in recruitment, fundraising, image enhancement and other activities of concern for the welfare of the university. Through each decade NHAA, Inc. has continued to focus on student recruitment, fundraising, membership expansion and, more recently, technological innovations.